Today, not only is video the preferred medium for instruction, it's become the expectation. 69% of people prefer video over text when learning about a product or service, according to a study analysis by Serpwatch. Training and supporting your workforce has never been easier than with a video knowledge base.
Learn how to create a knowledge base video with our comprehensive guide.
Before Recording:
Know when is the best time to leverage video training over written, more traditional avenues. 
Video will work best when the content you need to share is:
Visited frequently
Especially in the beginning, aim to answer common questions that are answered over and over. This will allow your team the space and resources to focus on more complex and important projects. Video will answer these questions more naturally and personally than text and images can.  
Easier to show than tell
We have all experienced the fluidity and ease of video instructions, as opposed to the tedious task of following written instructions. Cumbersome, lengthy lists of written instructions can be difficult to follow. 
Frequently changing
Don't feel like all of your internal instructional videos need to have the highest production quality. They don't! Use what you have on hand - laptops, phones, tablets, etc… How-to videos can be created with the intention of frequently updating them. Easily updatable videos will be powerful tools in creating agile, adaptable training programs!
Infrequently changing
At the same time, video is fantastic for evergreen content that won't change. It can be referenced countless times and embedded anywhere. In these instances it may be worth it to invest additional resources into a higher production-quality video. 
Aiming to create an emotional reaction
Even the smallest positive emotional reaction can provide tremendous value to your brand. Creating emotion is undoubtedly easier with video than written text, and much more likely to create trust around your brand.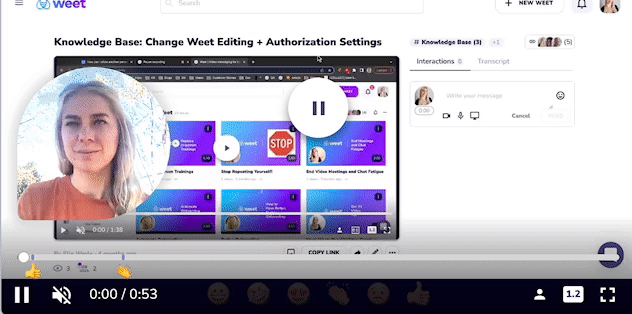 Ways to Utilize Video for Knowledge Base
There are lots of different ways to leverage video for your knowledge base. Check out our list of different ways to include video in your knowledge base library.
Introduce Employees to a New Tool
When your organization decides to launch a new tool or software, leverage video instruction to do so. People can move at their own pace and return to the information they need whenever they want. 
Demonstrate How-to Processes
Your L&D team is likely responding to many of the same "how do I…" questions over and over again with a list of step-by-step instructions. Invite employees to follow along with you during your instructional video, as opposed to asking in person individually or following tedious written instructions. This way viewers can visualize the steps for themselves in real time. 
Present Specific Use Cases
Your organization has no doubt identified the most common use cases for your product or service. Save time, energy, and resources on the repetitive task of walking through common tasks and procedures unique to different groups. Scale this process and make it less tedious by recording a video for your knowledge base that covers use case-specific workflows.
Educate About a Product Update or Release
As mentioned above, you can and should leverage video to create emotion over written text. Video allows you to create human connections that text can't, something that surely is important for an exciting announcement like a product update!
In addition to creating emotion, video will demonstrate your product better than screenshots and images can. Having a real-life (human!) team member show fellow colleagues around the product and features creates a better connection than text.
Bonus Video Knowledge Base Tips
We asked our network of video content creators for their most valuable tips for recording their video knowledge base. Here are the best of the best!
Don't Stress Too Much About Production Quality
Always strive to create the best, most professional-looking video content you can. However, don't get hung up over the details, editing,  and expensive equipment (or lack thereof). Simply use what you have on deck already for cameras and microphones, and use it to capture SME knowledge!
Automatically Transcribe Video Tutorials
Choose a tool that automatically transcribes your video's audio.  With Weet specifically, you can actually choose to view your AI-generated captions in paragraph form, or with time stamps. Additionally, you can auto transcribe in a wide variety of different languages.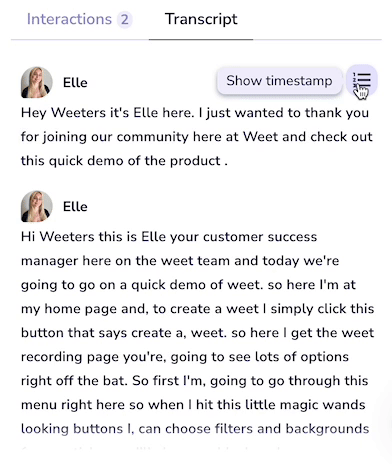 Conclusion
Video as a medium has not only become easier to create and share, but a cornerstone of how we communicate. Master video tutorial content creation now to leverage the power of video as soon as possible!
Are you creating or overhauling your video knowledge base? Try Weet today for free!Hello world!